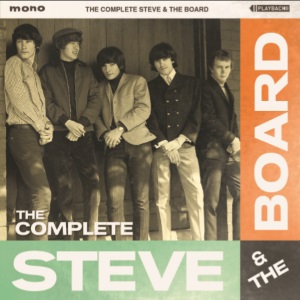 PBCD-002
4 Stars – Shindig! Magazine
Though unjustly somewhat forgotten today, Steve & The Board were one of Australia's premier bands of the 1960's. Here, we gather together the entirety of Steve & The Board's all-too-brief recording career; across 16 killer 2-and-a-half-minute top-drawer hard pop gems
Unlike many other outfits of the day, the band comprised of REAL musicians who also provided backing on recordings by many other Aussie artists of the era. The band's sole LP – included here in its entirety – was not a hastily assembled set of covers and half-baked throwaways (in contrast to many LP releases of the era), but a cohesive and fully realized album. Rounding out the collection are four non-album single sides;  included are the chart hits "The Giggle-Eyed Goo", "I Call My Woman Hinges" and "Rosalyn", plus the garage-punk classic "I Want" (as featured on Down Under Nuggets).
Officially licensed and mastered from the original tapes; this release includes a deluxe 32-page booklet features a definitive essay detailing the band's history; plus rarely-seen photos!
Board member Carl Keats would later author singles for Status Quo and Ringo Starr; while other members would go on to play with The Bee Gees, The Groove and Goanna. Lead singer Steve Kipner would found cult band Tin Tin ("Toast and Marmalade for Tea") before etching out a career as a songwriter, penning hits for Olivia Newton-John and Christina Aguilera – but don't hold that against him!
1. The Giggle-Eyed Goo!
2. I'm To Blame
3. Rosalyn
4. I've Just Realised
5. Margot
6. Rosemarie
7. I Want
8. I Call My Woman Hinges, 'Cause She's Something To Adore
9. Little Miss Rhythm And Blues
10. Farmer John
11. Love's Made A Fool Of You
12. Lonely Winter
13. So Why Pretend
14. Good For Nothing Sue
15. Now I'm Older
16. Sally Was A Good Old Girl
$22 AUD BUY HERE