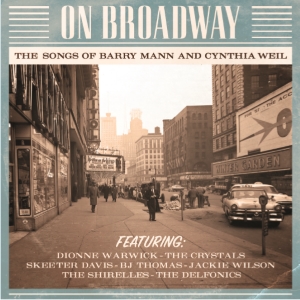 PBCD-003
Broadway was not just a part of New York's fabled Theatre district, but the place where some of the most timeless Pop Music of the twentieth century was composed. Here, songwriting teams such as Carole King and Gerry Goffin, Burt Bacharach and Hal David plied their trade; penning songs that would soundtrack the decade from small booths in offices located at 1619 and 1650 Broadway. Barry Mann and Cynthia Weil were creatively and commercially one of greatest songwriting teams of this era – you will certainly know their songs: "You've Lost That Lovin' Feelin'", "On Broadway", "We Gotta Get Out Of This Place", versions of which are all featured here.
This collection – spanning 1962 to 1976 – showcases some of Mann & Weil's best known compositions, alongside a slew of stunning rarities, performed by a sterling lineup including US stars Dionne Warwick and BJ Thomas alongside local stars Normie Rowe and Ray Columbus.
Featuring a whopping 28 tracks; all officially licensed, with six making their CD era debut. Another track makes its stereo debut; with a further six being brought back into print, with all prior CD releases having been long deleted. Serious Mann/Weil fans will also note there are ZERO recordings repeated from other Mann & Weil collections previously issued on other labels!
Lavishly packaged with a deluxe 32-page booklet including track by track annotation and rare and unpublished photos!
1. The Executives – It's A Happening World
2. Terry Knight – Come Home Baby+
3. Dewey Edwards – Come On over To My Place+
4. Barry Mann – Talk To Me Baby
5. The Lovenotes – Baby Baby You (aka You Baby)
6. The Crystals – On Broadway
7. Danny And Diego – Glitter And Gold+
8. The 5 A.M. Event – Hungry
9. The Graduates – The Shape Of Things To Come+
10. Nino Tempo & April Stevens – I Love How You Love Me
11. Julie Grant – Baby Baby (I Still Love You)
12. Skeeter Davis – I Don't Want To Love You
13. The Shirelles – The Gospel Truth
14. The Earls – Remember Me Baby
15. Ray Columbus & The Invaders – Till We Kissed (aka Where Have You Been)
16. The Paris Sisters – See That Boy
17. Keith Powell – Goodbye Girl
18. Walter Jackson – Not You
19. Glenn Yarbrough – It's Gonna Be Fine
20. Twice As Much & Vashti – Coldest Night Of The Year
21. Normie Rowe – It's Not Easy
22. Chuck Day & The Young Gyants – We Gotta Get Out Of This Place+
23. Dionne Warwick – You've Lost That Lovin' Feelin'
24. Roy Hamilton – Angelica++
25. Wildfire – Bless You+
26. BJ Thomas – This Is A Love Song
27. The Delfonics – When You Get Right Down To It
28. Jackie Wilson – Nobody But You
+New to CD
++Previously unreleased Stereo version
$22 AUD BUY HERE