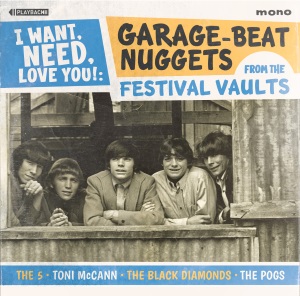 PBCD-001

4 Stars – Shindig! Magazine
4½ Stars – i94bar.com
Festival Records was indisputably a cornerstone of the Australian Music Industry throughout its years of operation; never more so than the 1960s, when it was also responsible for the distribution of a plethora of smaller Australian labels including Leedon, Sunshine and Spin.
During this time, Festival held the honor of issuing (either on its own imprint, or via distribution arrangements) some of the most exciting and dynamic music of the era.
This essential collection rounds up the complete surviving recordings from four of Festival's best (and most criminally underrated) artists – The 5, Toni McCann, The Black Diamonds and The Pogs.
Brisbane's The 5 (featuring the formidable songwriting of Ronnie Williams) actually managed to make the charts a couple of times – but don't let that put you off! All six single sides are featured here.
Five ferocious girl rockers from Toni McCann (including, as a special bonus, her first – and toughest! – post-Festival recording, made with then-husband Royce Nicholls of the Blue Jays) showcase a talent completely unlike any other of the era, Australian or otherwise.
The Black Diamonds eponymous title track is rightly considered a 60's punk classic; but equally strong are more melodic numbers like "See The Way". The band later evolved into prog group Tymepiece, and under the moniker of "The Love Machine" issued a psychified version of the "The Lion Sleeps Tonight", recorded for producer Pat Aulton (which we have included here… the compilation's only national charter!)
Rory O'Donoghue might be best remembered for his role in The Aunty Jack show, but half a decade prior he was recording some great singles as frontman of The Pogs, under the auspices of songwriter/producer (and later, noted film composer) Peter Best.
All four artists have had recordings featured across revered Antipodean garage rock compilations such as Down Under Nuggets, Before Birdmen Flew, Of Hopes & Dreams & Tombstones, and (of course) Ugly Things; but this release marks the first the first CD release of over half of these songs.
All recordings have been remastered from the original tapes (where they survive!) by former Festival in-house mastering guru Warren Barnett. Deluxe 28-page booklet features superlative liner notes by The Encyclopedia of Australian Rock and Pop's Ian McFarlane, with quotes taken from brand new interviews with the artists!

The 5
1. I'll Be There
2. Wasting My Time
3. Bright Lights, Big City
4. How Can She Know
5. I Can't Find Her
6. There's Time
Toni McCann
7. Saturday Date
8. My Baby (with The Blue Jays)
9. No (with The Blue Jays)
10. Buy Some Love (Toni & Royce)
11. If You Don't Come Back
The Black Diamonds
12. See The Way
13. Not This Time
14. I Want, Need, Love You
15. The Lonely Hearts Club Christmas Party (The Love Machine)
16. Outside Lookin' In
17. The Lion Sleeps To-Night (The Love Machine)
The Pogs
18. I'll Never Love Again
19. The Pogs' Theme
20. Goodnight, But Not Goodbye
21. Hey, Miss Thompson
22. Claret And Tears
23. Heidi
24. Scenes From An Affair
25. Now That It's Over
26. Aboriginal Referendum Jingle
PBCD-001